---
---
Features:

A set can solve full body exercises;
Easy to carry by the side;
Various combination upon to yourself;
Natural rubber material;
Easily Created Professional Fitness Exercises;
For Resistance Training, Physical Therapy, Home Workouts;
Come with Door Anchor, Ankle Straps, Carrying Case & Guide Ebook
✅FOR ALL FAMILY MEMBERS: Do You Wanna Call All Your Family Members To Join In Your Exercise Activities When Staying At Home? This Is a Healthy And Professional Fitness Equipment For Adults, Men, Women, Children, Kids, Boys And Girls To Burn Calorie, Build Muscles, Train Pilates And Strengthen Physical Fitness.
✅FULL BODY WORKOUT: Our Strength Training Exercise Resistance Tube Band Is Carefully Constructed To Resist Snapping And Breaking. Whether You Are a Beginner Or a Professional Athlete, It Is Safe For You To Exercise Your Shoulders, Arms, Chest, Belly, Legs, Hips And Knees.
✅FITNESS IN YOUR POCKET: It Is Easy To Carry By The Side, Our Product Comes With a Carrying Case, You Can Take It Outside, Such As Home Gardens, Parks, To Exercise While Enjoying The Fresh Air And Comfortable Sunshine At The Same Time.
✅VARIOUS COMBINATION UPON TO YOURSELF: We Offer a set of Digital Guide Resources, If You Need, And You Can Decide How Many Bands to use, and What Kind of Workout Posture to do, It's All Upon To Your Own Workout Request.
✅SPECIFICATIONS: 5 Stackable Exercise Bands with Door Anchor, Ankle Straps, Carrying Case. Yellow band = 10 lbs. Blue band = 20 lbs. Green band = 30 lbs. Black band = 40 lbs. Red band =50 lbs. Two cushioned handles. Two ankle straps. Door anchor. Waterproof Carry Bag.
Please contact us asap if you have any questions, we will solve it for you in the first time!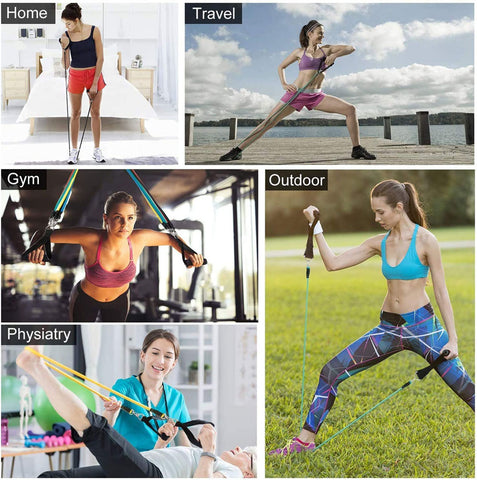 ---